"
Don't get all up in my grill again.
"

—Judy to K.C.
My Sister from Another Mother... Board is the 2nd episode in season 1 of K.C. Undercover and the second episode overall. It first aired on January 25, 2015.
Overview
K.C. tries to convince her parents that her brother, Ernie, who is a genius with computers but pretty clumsy at everything else, is ready to become a spy. However, Craig and Kira have a different plan and introduce them to their new little sister, Judy – a sophisticated humanoid robot disguised as a precocious 10-year-old.[1]
Episode Summary
K.C. tries to tell her parents that Ernie Cooper is ready to be a spy, even though he can be clumsy. Meanwhile, K.C.'s parents introduce her to Judy Cooper, who is a robot who acts like a 8- year-old girl.
Cast
Main Cast
Guest Cast
Isaiah Watson as Mateo
Morgan Bertsch as Little girl
Rick Hall as Agent Johnson
Terence J. Rotolo as Enemy Spy
Ed Corbin as Traffic Cop
Quotes
K.C.: I'm sorry. I got into a fight my brother, so...
Marisa: Well focus in. This is a Marisa moment.
Ernie: A spy never reveals his secrets.
Craig:That's a Magician, boy! Start talking!
Kira: That's my boy!
Craig: Um, excuse me, that's OUR boy!
Trivia
One of the main characters, Judy Cooper, makes her first appearance in this episode.
When Ernie is playing on his laptop at the beginning of the episode, he is using a PDP Afterglow Universal Wireless Headset, which isn't paired to the laptop, nor is its wireless adapter connected to the laptop.
Judy and K.C keep grabbing hold of each other and flipping each other over.
The pen K.C. uses beeps for approximately 15 seconds the first time she uses it, then approximately 10 the next two times.
International premieres
March 12, 2015 (Australia)
April 17, 2015 (UK and Ireland)
May 1, 2015 (Italy)
May 29, 2015 (Spain and Portugal)
July 14, 2015 (Israel)
July 21, 2015 (Latin America and Brazil)
September 6, 2015 (Czech Republic and Hungary)
September 11, 2015 (Netherlands and Flanders)
September 15, 2015 (Germany)
September 27, 2015 (Bulgaria)
October 3, 2015 (Poland)
October 13, 2015 (Turkey - Disney XD)
Gallery
| | |
| --- | --- |
| | To view the My Sister from Another Mother... Board gallery, click here. |
Videos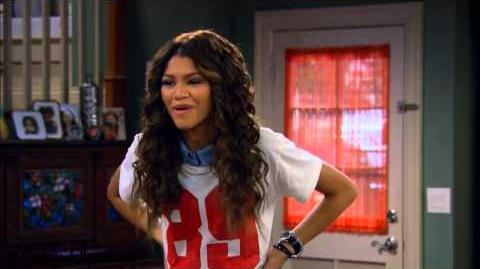 References
Ad blocker interference detected!
Wikia is a free-to-use site that makes money from advertising. We have a modified experience for viewers using ad blockers

Wikia is not accessible if you've made further modifications. Remove the custom ad blocker rule(s) and the page will load as expected.