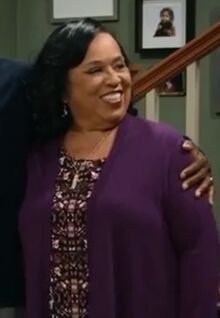 Gayle King is a character on K.C. Undercover. She is the grandmother of K.C. and Ernie Cooper, and the mother of Kira and Erica.
She is portrayed by Roz Ryan.[1]
Summary
She appeared in Off the Grid to help K.C. and Ernie stop Regina Honey from killing their parents. She appeared in K.C. and Brett: The Final Chapter Part One where she was staying with the Coopers because Othello was out of town. She did appear in The Legend of Bad, Bad Cleo Brown telling K.C. and Ernie about the first black female spy.
Personality
Grandma Gayle is quite sassy. She doesn't let anyone or anything get in her way no matter what. She often forgets what she's talking about.
Character History
TBA
Physical Appearance
Grandma Gayle has black, curly hair, brown eyes and light brown skin. In The Legend of Bad, Bad Cleo Brown, she had brown hair with highlights.
Family
K.C. Is Grandma Gayle's granddaughter.
Ernie is Grandma Gayle's grandson
Craig is Grandma Gayle's son-in-law.
Kira is Grandma Gayle's daughter.
Grandma Gayle knows about Judy being a robot and spent a while with her in "K.C. and Brett: The Final Chapter - Part 1".
Quotes
Gayle: Back in my day, we used good old fashioned brain power! Wait, what were we talking about again?
Trivia
According to Debutante Baller, Kira, Gayle, and Gayle's mother/K.C.'s great-grandma won the title of "Miss Debutante" when they were young.
Gallery
| | |
| --- | --- |
| | To view the Gayle King gallery, click here. |
References
Ad blocker interference detected!
Wikia is a free-to-use site that makes money from advertising. We have a modified experience for viewers using ad blockers

Wikia is not accessible if you've made further modifications. Remove the custom ad blocker rule(s) and the page will load as expected.